Japan is a great country to visit. The food is fantastic, the trains are plenty and always on time, and the culture is very rich. If you have not been to Tokyo, Osaka, Kyoto, or Nagoya yet it should definitely be on your list to get to Tokyo at a minimum.
People are beginning to discover how cool Japan really is. That shows in that the number of visiting tourist visitors doubled to 19.7 million people last year. As AINEO is a Japanese company with international leadership, we frequently get asked about things to do while you're in Japan. Rather than going off into Osaka, Kyoto, Nikko, Karuizawa, and all the other great places you can go, we would like to give you a good feel for things you can do while you're in Tokyo. If you can get to at least Tokyo, you can experience a lot in Tokyo and the surrounding areas. If you have other suggestions, please drop us a line HERE and we'll will update this list.
1. Asakusa –
Asakusa is the old part of Tokyo. It's famous for the Sensoji temple shops.
The walk from the entrance to the temple is interesting for people watching and the plethora of shops selling both traditional Japanese items as well as the cheap souvenir.
2. Ueno Zoo and Park –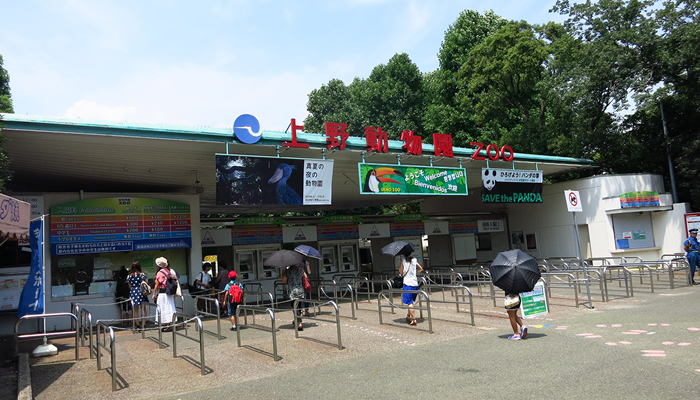 Ueno Park is a huge green area just North of Tokyo Station that has a lot of space to walk or you can go into the Ueno Zoo and check out the animals.
3. Tokyo Tower –
Tokyo Tower is near Kamiyacho station on the Hibiya line. It is 333 meters high and looks a lot like the Eiffel Tower in Paris that has been recently updated for digital broadcasting. There are two levels and you can reasonably get to the top and get some great views
4. Tokyo Metropolitan Building –
The Tokyo Metropolitan Buildingis near Shinjuku station and also is a very tall building with a Gotham City type of feel to it. It also gives you a nice view of the West side of Tokyo that has many newer skyscrapers.
5. Tokyo SkyTree –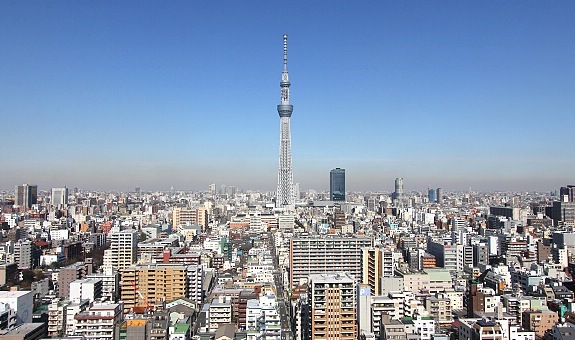 The Tokyo Skytree is a very tall broadcast tower that you can visit in East Tokyo. It stands at 634 meters high so everything around it is dwarfed by it. It is not far from Asakusa and is surrounded by considerable shopping but the fee to go to the top is a bit expensive still.
6. Roppongi Hills Tower –
Observation Deck & Restaurants – Roppongi Hills is a massive building connected to Roppongi station on the Hibiya line or not far from the Oedo subway line. There is a lot of shopping surrounding this complex that used to house many financial firms but has become a technology building housing many companies such Google, Apple, as well as Credit Suisse and American fashion brand Coach.
7. Yoyogi Park and Harajuku –
–
Yoyogi Park and Harajuku are fun areas to visit for seeing many young people who come in from the suburbs on the weekend. Sunday, people come out and dress up, there are many good restaurants and café's where you can enjoy the tree-lined road. You can walk from Omotesando station to Harajuku.
8. Meiji Shrine –
Near Yoyogi station on the JR, Meji Shrine is a popular spot to visit but it is a long walk from the gates to the shrine with not really much to see once you get there.
9. Tobu Zoo and Park (Roller Coasters) –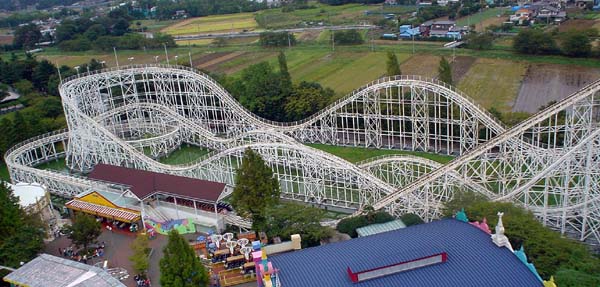 Straight North of Tokyo on the Tokyo Skytree Line, Tobu, the owner of the Skytree, the trainline, and many other companies in the area have set up a zoo and a park with roller coasters as well as animals and a petting zoo for little kids.
10. Rainbow Bridge and Yurikamome Line/ Venus Fort –
One of the best train rides is from Shinbashi (or Shiodome) area out on the Yurikamome line. This line is not a monorail, but more like a self driving truck train on tracks. The view when you go over the Rainbow bridge is beautiful at night.
11. Baseball game at Tokyo Dome –
Japan loves baseball. The Yomiuri newpaper company owns a baseball team called the Tokyo Giants as well as the station they play in called the Tokyo Dome. It is near Suidobashi station in central Tokyo between Shinjuku and Tokyo. Besides catching the fun of a Tokyo baseball game, there are other events at this stadium.
12. Rugby in Jingumae –
You may not be into baseball, so if you want to see a bit more roughness then rugby is for you. Japan adopted American baseball but they also embraced Rugby from the commonwealth nations. Many of the major Japanese companies have their own semi-pro rugby teams.
13.Catch live music at Cafes –
Tokyo is great for food, but there are also a lot of people in country who have been practicing various types of music. You can get rock, jazz, country, and even bluegrass at the various venues scattered around Tokyo.
14.Shopping in Shibuya –
If you don't like crowds, avoid Shibuya. Check out Starbuck's at Shibuya crossing and watch the crowds cross near the Hachiko dog statue from the 2nd floor. Hachiko is a famous meeting place that is well known. Shibuya is really crowed with many young people and shops selling clothing and shoes to match their tastes.
15. Tokyu Hands In Shibuya –
If you do go to Shibuya, you should definitely hit Tokyu Hands store. It's not a home center but they have a lot of interesting products and areas that are fun to explore.
16.Lake Town Mall near Koshigaya –
If you want to visit Japan's largest mall, you definitely have to hit Laketown. It's North of Tokyo station on the Tobu Skytree line with one change to the JR Musashino line. This massive complex has a lot of local stores as well as some famous brands and now, outlet shops.
17.Bullet Train Ride Between Tokyo and Shin-Yokohama –
If you want to experience the famous Japan Bullet train or "Shinkansen" as it's called, you can experience it without going to Kyoto or Osaka. Just get on a train for Shin-Yokohama station and experience the quiet but speedy train.
18. Lunch/Dinner in Ebisu –
 If you like good food, Tokyo is unbeatable. Japanese are mostly about quality food and less about quantity. A trip to the Ebisu station on the JR Yamanote or Hibiya subway (Metro) line brings you into a crowded area not far from Shibuya but famous for many great restaurants.
19. Universal Studios in Kansai
20.Tokyo Disneyland –
Tokyo Disneyland is a small but very efficient version of Disneyland in Anaheim California. It is not only very popular with people in Japan but also tourists from around Asia. It is expensive to visit much like Disney in any other country. Be prepared to line up.
21. Tokyo Disney Sea –
Disney Sea is unique to the global Disney parks. Originally, it had more of a focus on small children but has become popular with older people as well. We've never visited the park.
22. Climb Mount Fuji / View From Yamanaka-ko –
Mount Fuji is the iconic volcano seen in much of Japanese art and some of the stereotypical sea wave and mountain scenes of Japan. It gives fantastic views. Many enjoy the early AM trek to the mountain and up to the mountain to see sunrise. Unlike Mount Rainier in Washington state, it is more of a moonscape type of look as you go up the mountain with very few trees
23. Suidobashi Tokyo Dome Park –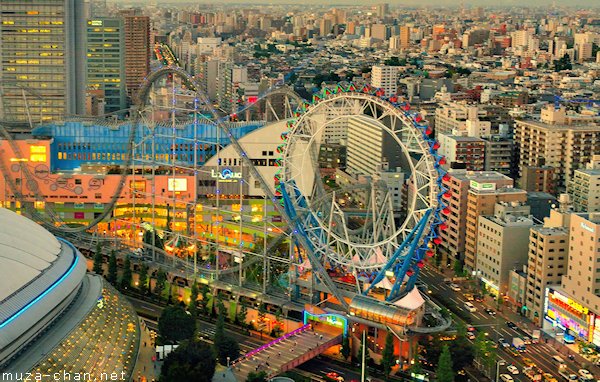 It's a tight park with various rides and entertainment need the Tokyo Dome. The roller coaster attached to buildings is certainly something you wouldn't normally see at it's height in such a crowded city.
24. Makuhari Messe- Baseball Stadium –
If you're in Japan for a show you'll likely be visiting either Makuhari Messe or Tokyo Bigsite. Makuhari is a place built by developers that is in Chiba prefecture on the way out to the Narita airport. It was developed as a way to escape the so called 'high rents' of central Tokyo. Fortunately, the rents in Tokyo don't seem to be so high but the area has developed and there is a baseball team that plays out of a stadium there.
25. Visit- Yokohama's China Town –
Yokohama is a famous port city just South of Tokyo. Many people commute from Yokohama into Tokyo each day for work. As a port town, an area was developed with a Chinese theme. There are many good restaurants in Chinatown and a visit to the nearby Yokohama bay is always fun.
26. Toranomon Hills – Lunch at the Andaz Hotel – 
Toranomon Hills is another building developed by Mori Building like Roppongi Hills. They seem to have a thing with calling their building "X Hills". Mori has worked with Hyatt's high end brand to develop an Andaz hotel in Tokyo. It tops the building and has beautiful views, interiors, and very high ceilings.
27. New Olympic Stadium Yoyogi Area –
Tokyo hosted the Olympics years ago and built stadiums, arenas, and even the famous Shuto Expressway that sort of rings the city. Driving the expressway can be a race car driver experience with all the quick turns and changes in the road. With the Olympics coming to Tokyo again, a tour of the old and new venues could be of interest. These are just a few ideas of what you can do while you're in Tokyo. If time is short, we recommend that you don't bother trying to head to Osaka or Kyoto even. Many people go to Kyoto but it's really a lot of temples and shrines.